C100-BSC
Are you the kind of person who finds every aspect of the living world fascinating? The kind of person who one minute is marvelling at the machinery of gene expression, and the next minute wondering about the flight of birds? If you are that kind of person, then Biology at Aberystwyth is the degree for you. From proteins to puffins our course covers the everything life has on offer.
Bodlonrwydd Myfyrwyr Cyffredinol a Chanlyniadau Cyflogadwyedd
100% o'n myfyrwyr ar ein cwrs C100 Bioleg yn cytuno bod y staff yn esbonio pethau'n dda a bod y cwrs yn eu hysgogi'n ddeallusol. (ACF 2019) 
Ymhlith y 15 uchaf yn y DU am Ansawdd y Dysgu a Phrofiad Myfyrwyr ym maes y Gwyddorau Biolegol (Canllaw Prifysgolion Da y 'Times' a'r 'Sunday Times' 2019).
91% boddhad cyffredinol myfyrwyr i Athrofa'r Gwyddorau Biolegol, Amgylcheddol a Gwledig (ACF 2019)
98% o'n graddedigion mewn gwaith a/neu astudiaethau pellach o fewn chwe mis ar ôl graddio, 3% yn uwch na graddedigion y Gwyddorau Biolegol yn genedlaethol, (HESA 2018*)
Trosolwg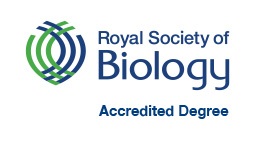 Why study Biology at Aberystwyth University?
Aberystwyth is situated amongst hills, wooded valleys, wetlands, sandy and rocky shores and, of course alongside the pristine waters of Cardigan Bay. 
You might be studying microbiology in the morning, and investigating the life found in sand dunes in the afternoon; you don't have to limit yourself to just one area of Biology. You can keep your options open or specialise; our degree structure allows you to do either.
You will be taught by passionate, engaged, friendly and staff with expertise across the full range of Biological topics.
Your academic studies will be bolstered by a wealth of laboratory and field classes which build real scientific skills essential for your future.
Our teaching and E-learning facilities provide you with an outstanding learning experience integrating the classroom sessions and a vast repository of study resources.
You will be assigned a personal tutor who can guide you through your time at Aberystwyth and help you to settle in when you first arrive.
We have invested heavily and over a number of years in our research facilities, and project students may get the opportunity to work in the research units on Penglais, or in our dedicated research facility at Gogerddan just outside Aberystwyth.
If you would like to study Biology with an Integrated Masters, then have a look at our sister course with an additional year allowing you to complete a Master's qualification (C109).
Ein Staff
Mae gan y rhan fwyaf o staff dysgu Athrofa'r Gwyddorau Biolegol, Amgylcheddol a Gwledig gymwysterau hyd at safon PhD ac maent yn ymchwilwyr gweithgar. Hefyd, mae gan staff y cyrsiau galwedigaethol gefndir ym myd diwydiant.  Mae yn yr Athrofa nifer fawr o staff sy'n gwneud ymchwil yn unig ac mae'n bosib y bydd y myfyrwyr yn dod i gysylltiad â hwy.
Modiwlau
Noder: Y modiwlau a restrir isod yw'r modiwlau y bwriedir eu cyflwyno ar hyn o bryd yn ystod y flwyddyn academaidd nesaf ac mae'n bosibl y gallant newid. Maent wedi'u cynnwys yma i roi syniad o strwythur y cwrs.
Core
Fe'i cyflwynir yn rhannol neu'n gyflawn drwy gyfrwng yn Saesneg
Core
Opsiynau
Core
Opsiynau
Fe'i cyflwynir yn rhannol neu'n gyflawn drwy gyfrwng yn Saesneg
Core
Opsiynau
Fe'i cyflwynir yn rhannol neu'n gyflawn drwy gyfrwng yn Saesneg
Core
Opsiynau
Cyflogadwyedd
What options are available to me after I graduate?
Our graduates are strong candidates in the following fields:
Clinical molecular geneticist;
Nature conservation officer;
Students who have completed a biology degree could also progress to further training in:
The University has an excellent Careers Advisory Service and we have our own dedicated, professional Careers Advisor. We also have a member of staff who is Director of Employability for IBERS and we are constantly striving to embed and enhance the delivery of real-world skills into every module we offer.
What skill will I develop from studying Biology?
Employability is embedded in our teaching. Our students leave Aberystwyth University with the skills including:  
• research and data analysis skills;
• enhanced mathematical and computational skills;
• effective problem-solving and creative thinking skills;
• a thorough grounding in information technology skills;
• the ability to work independently;
• time-management and organisational skills, including the ability to meet deadlines;
• the ability to express ideas and communicate information in a clear and structured manner, in both written and oral form;
• self-motivation and self-reliance;
• team-working, with the ability to discuss concepts in groups, accommodating different ideas and reaching agreement.
What work experience opportunities exist whilst studying? 
Click here to find out about the various opportunities that our Aberystwyth University Careers team offer.
Enhance your employability prospects with GO Wales and YES (Year in Employment Scheme) managed by our Careers department. 
Addysg a Dysgu
The breakdown below will provide you with an illustration of what you may study during the three year degree scheme.
What will I learn?
In your first year you will explore a wide range of topics from Biochemistry to Animal Diversity, from Microbial Diversity to Vegetation and Ecosystems. These are all designed to give you a firm footing in your second and third years and allow you to try out topics you might never have considered before.
There is a wide range of modules on offer in years two and three, more so than in any other scheme we offer. In these years you can specialise, perhaps taking a more molecular or environmental route choosing modules such as Applied Molecular Biology and Bioinformatics or Ecological Surveying. On the other hand you can keep your options open by mixing and matching topics like Biochemistry and Pharmacology with Population and Community Ecology. The latter approach is ideal if you are interested in a career in education. The second and third years are where you will also find our field courses ranging from Tropical Zoology to Animal Behaviour.
In your final year you will also undertake your dissertation. Because of the range of research done in IBERS you will be able to find a project which really engages you and builds your scientific skills. The projects may be lab or field-based or data analysis studies, but all help you develop advanced analytical skills. You might be studying parasites, plant breeding, bird behaviour, or cancer to name but a few. 
 How will I be taught?
It's not all lectures and exams here at Aberystwyth. We place great emphasis on field and practical to let you get your hands dirty and build the practical and analytical skills. The skills are essential for a career in Biosciences and teaching, but they also make Biology graduates an attractive proposition for employers in many other sectors. Seminars, tutorials and residential field courses also play a role in teaching here. We have a very well developed E-learning environment which captures every lecture for you to revisit at your leisure and hosts a wide-range of contents in all formats. We have an excellent Student Support team at Aberystwyth who can help arrange for additional teaching resources and alternatives for those students who need it. Our aim is to make everything we do fully accessible to everyone and our teaching and support staff are dedicated to this end.
There are, of course, exams, but every module has more than one form of assessment. In most modules coursework makes up a significant proportion of the marks (typically up to 50% although there are modules assessed entirely by coursework). Coursework assessments range from practical or field reports through to writing journal-style articles and making podcasts. Our assessments are not just designed to test your knowledge and understanding, they also build real-world skills such as team work, presentation and report writing skills that are needed in any graduate-level job. When we teach and examine, we are aiming to create the scientists of the future and first class potential employees at the same time. 
Barn ein Myfyrwyr
It's great, I get to cover a large range of topics which allows me to tailor my modules to my own taste and make it fit my interests and needs. Elizabeth Smith
It is very broad and caters for the interests of anyone wishing to study biology. The modules in the second year allow you to specialize in subject areas that you are interested in. The flexibility of the degree scheme is very attractive to a prospective student who is not yet sure where their true interests lie. The practicals are diverse and well spread over the academic year and reinforce lecture material. Jodie Ackland
Biology is the study of life. To me, that is the most important study of all. From the smallest Archaea in extreme conditions to the dense masses and diversity of a rainforest, Biology covers it all with unbelievable detail and fantastic enthusiasm, particularly at Aberystwyth University. The teaching at Aberystwyth has allowed me to explore certain aspects of biology that I find fascinating, allowing me to acquire skills that will help me succeed in the future with a career I want. Biology at Aberystwyth: I wouldn't have it any other way. Matthew Collins
Gofynion Mynediad Nodweddiadol
Tariff UCAS 104 - 120 to include B in A-level Biology or equivalent
Lefel A BBB-BCC with B in Biology
Gofynion TGAU (o leiaf gradd C/4):
English or Welsh and Mathematics
Diploma Cenedlaethol BTEC:
DDM-DMM with a specified subject
Bagloriaeth Ryngwladol:
30-28 with 5 points in Biology at Higher Level
Bagloriaeth Ewropeaidd:
75%-65% overall with 7 in Biology
Mae'r Brifysgol yn croesawu ceisiadau gan fyfyrwyr sy'n astudio am Ddiploma Mynediad i Addysg Uwch. Mae ein polisi derbyn cynhwysol yn rhoi gwerth ar ehangder yn ogystal â dyfnder astudio. Dewisir ymgeiswyr ar sail eu teilyngdod eu hunain, a gall cynigion amrywio. Os ydych yn astudio am gymhwyster nad yw wedi'i restru ar y dudalen hon, cysylltwch â'r Swyddfa Derbyn Israddedigion i gael cyngor pellach. Mae manylion am gymwysterau gwahanol wledydd a dderbynnir yn y Brifysgol i'w gweld ar ein tudalennau gwlad-benodol i gael manylion am y cymwysterau rhyngwladol yr ydym yn eu derbyn. I gael rhagor o wybodaeth, cysylltwch ag ug-admissions@aber.ac.uk
Yn ôl i'r brig