N8R4-BSC
BSc
Twristiaeth gyda Sbaeneg
Gwybodaeth ar gyfer mynediad ym mis Medi 2017 sydd ar y dudalen hon. I weld gwybodaeth am 2018, gan gynnwys y graddau gofynnol, edrychwch yn ein prosbectws.
In choosing to study this Tourism with Spanish degree you'll be studying a discipline that's also the world's biggest industry. Covering essential learning that includes Marketing, the Business Environment, Tourism and Recreation in the UK, alongside Spanish (Linguistics, Literature, Culture) you'll be provided with the necessary skills and attributes demanded by employers of graduates of this discipline. We place an emphasis on delivering effective graduates with a thorough understanding of the Tourism industry and well-developed language skills following a year abroad in a Spanish-speaking country.
Ysgol Fusnes Aberystwyth: Deg Uchaf yn DU am fodlonrwydd myfyrwyr am y dysgu mewn pynciau Marchnata/ Economeg a Chyllid (ACF 2017)
95% o'n graddedigion mewn gwaith a/neu astudiaethau pellach o fewn chwe mis ar ôl graddio, 2% yn uwch na graddedigion Astudiaethau Busnes a Gweinyddu yn genedlaethol. (DLHE 2017)
Adran Ieithoedd Modern: 93% boddhad myfyrwyr (ACF 2017)
Aeth 85% o'n graddedigion i swyddi ar lefel broffesiynol, 38% yn uwch na graddedigion Ieithoedd yn genedlaethol (DLHE 2017)
Trosolwg
Modiwlau
Cyflogadwyedd
Addysg a Dysgu
Barn ein Myfyrwyr
Trosolwg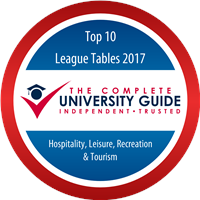 Top 10 Leagues Tables 2017 for Hospitality, Leisure, Recreation and Tourism (The complete University Guide, 2016)
This degree is engineered for those wanting a career in tourism - the world's biggest industry
Taught by enthusiastic staff who are experts in the tourism sector
Explore the linguistic, cultural and literature of the Spanish language
See your fluency levels in Spanish improve
Open to beginners in the Spanish and to those who have studied up to A-Level
Receive expert advice by visiting speakers who are prominent in the industry who bring their professional experience to the classroom
Spend a year abroad in Spain under the Erasmus + programme studying or working
Ein Staff
Mae gan bob un o ddarlithwyr yr Adran Ieithoedd Modern gymwysterau hyd at safon PhD ac maent yn gwneud gwaith ymchwil. Rydym hefyd yn cyflogi tiwtoriaid iaith, rhai ohonynt â gradd PhD, a phob un yn addysgwyr profiadol. O bryd i'w gilydd, cyflogwn siaradwyr brodorol o brifysgolion sy'n bartneriaid i ni dramor (lectoriaid), sy'n dod atom â chymeradwyaeth uchel ar sail eu llwyddiant academaidd yn eu prifysgolion eu hunain, ac mae sawl un ohonynt wedi hyfforddi fel addysgwyr. Y pedwerydd grŵp yw'r staff rhan amser a gyflogir ar sail eu harbenigedd mewn maes arbenigol penodol.  
Modiwlau
Noder: Y modiwlau a restrir isod yw'r modiwlau y bwriedir eu cyflwyno ar hyn o bryd yn ystod y flwyddyn academaidd nesaf ac mae'n bosibl y gallant newid. Maent wedi'u cynnwys yma i roi syniad o strwythur y cwrs.
Cyflogadwyedd
Career prospects: From Campus to Career
Employability is embedded across our teaching.
Our graduates have been successful in seeking employment in the following:
Tourist Information Centre Manager
What skills will I acquire from this degree?
Studying for a degree in Tourism Management and Spanish will equip you with a range of transferable skills which are highly valued by employers. These include:
the ability to research, interpret and analyse business and financial data
the ability to express ideas and communicate information in a clear and structured manner, in both written and oral form
effective problem-solving
analytical and creative thinking skills
decision-making
the ability to work independently
time-management and organisational skills, including the ability to meet deadlines
self-motivation and self-reliance
team-working, with the ability to discuss concepts in groups, accommodating different ideas and reaching agreement
What work experience opportunities exist whilst studying? 
Click here to find out about the various opportunities that our Aberystwyth University Careers team offer. 
Enhance your employability prospects with GO Wales and YES (Year in Employment Scheme) managed by our Careers department. 
Addysg a Dysgu
What will I learn?
The breakdown below will provide you with an illustration of what you may study during the four year degree scheme.
During your four years, you will have four weekly hours of language work, which includes:
Oral
Written
Aural
Translation
In your first year you will explore:
Tourism principles
Tourism system
Marketing principles
The business environment and management
And acquire basic communication skills in either French or Spanish
In your second year you will investigate:
Adventure Tourism and outdoor recreation
Destination and attraction management
International Tourism
In your third year you will: 
Embark on your Year Abroad of studying or work placements through the Erasmus + Programme.
In your final year you will discover:
Sustainable tourism
Tourism marketing
Development and planning
Your independent research project
How will I be taught?
We deliver our courses in the medium of lectures, seminars and tutorials.
You will be assessed through essays, business plans, reports, reflective journals, projects, presentations and examinations.
Further information:
We will assign you a personal tutor who will be with you throughout your degree, this person will help you any problems whether these are academic-related or personal issues. 
You will be assigned a personal tutor throughout your degree course, who will help you with any problems or queries, whether these are academic-related or personal issues. You should feel free to contact them at any time for help and advice.
You will also have the opportunity to complete a Personal Development Plan (PDP) at Aberystwyth. This is a structured process of self-appraisal, reflection, and planning, which will enable you to chart your personal, academic and professional development throughout your time at university. By recording your academic performance, and highlighting the skills you already have and those you will need for future employability, the PDP portfolio will equip you with the necessary tools to plan effectively, develop successful approaches to study, and consider your future career options and aspirations.
Barn ein Myfyrwyr
Aberystwyth is the perfect place for studying tourism, as it is a popular tourist destination itself. I especially like the size of student numbers on the course: we are a group of around 25 students which enables us to go on many field trips and study tours. The lecturers are experienced and very helpful, and over the past three years I've got to know them very well. The course structure is flexible so you can concentrate on areas that you really enjoy! Katja Christiane Poguntke
Gofynion Mynediad Nodweddiadol
Lefel A BBC with B in Spanish unless to be studied as a beginner
Gofynion TGAU (grade C min):
English or Welsh, Mathematics
Diploma Cenedlaethol BTEC:
DMM with specified subject
Myfyrwyr Rhyngwladol
Bagloriaeth Ryngwladol:
25 points overall with 5 points in Spanish at Higher Level unless to be studied as a beginner
Bagloriaeth Ewropeaidd:
75% overall with 70% in Spanish unless to be studied as a beginner
Ystyrir ymgeiswyr yn ôl eu rhinweddau unigol a gall y cynigion amrywio. Am ragor o wybodaeth, cysylltwch ag: ug-admissions@aber.ac.uk
Yn ôl i'r brig