N8N5-BSC
BSc
Rheoli Twristiaeth / Marchnata
Tourism Management is reputed to be the world's biggest industry. The combination of Tourism and Marketing will enable you to explore the exciting and dynamic tourism industry whilst developing and discovering a new skill set in traditional and digital marketing theories. At Aberystwyth University, you will study in a place where tourism helps a vibrant community thrive. You will also be studying a degree in a department that is an accredited CIM Gateway Centre, meaning you can study your degree and obtain exemptions from the modules provided by the Chartered Institute of Marketing (CIM). 
Bodlonrwydd Myfyrwyr Cyffredinol a Chanlyniadau Cyflogadwyedd
Ymhlith y 10 uchaf yn y DU am Ansawdd y Dysgu ym maes Astudiaethau Rheolaeth a Busnes (Canllaw Prifysgolion Da y 'Times' a'r 'Sunday Times' 2019).
95% o'n myfyrwyr ym maes Busnes a Gweinyddiaeth yn fodlon bod y staff yn esbonio pethau'n dda; 88% yw'r cyfartaledd i'r sector. (ACF 2019)
97% o'n graddedigion mewn gwaith a/neu astudiaethau pellach o fewn chwe mis ar ôl graddio, 3% yn uwch na graddedigion Astudiaethau Busnes a Gweinyddu yn genedlaethol. (HESA 2018*)
Trosolwg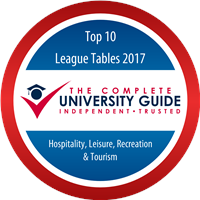 Why study Tourism Management / Marketing at Aberystwyth?
This degree is engineered for those wanting a career in tourism and marketing - the world's biggest industry.
The marketing component of this degree allows you to explore the changing use of information technology and digital media for marketing purposes in a creative and innovative way. 
See your skills which include communication, time management, objective management improve with us.
You will also develop your skills and knowledge in the strategic and operational aspects of contemporary marketing that include branding, communications, relationships, consumer behavior, the management of marketing and contemporary marketing practice. 
Take part in three-day tours of a UK destination and a week-long tour to an overseas tourism destination when you study with us.
Receive expert advice by visiting speakers who are prominent in the industry who bring their professional experience to the classroom.
Ein Staff
Modiwlau
Noder: Y modiwlau a restrir isod yw'r modiwlau y bwriedir eu cyflwyno ar hyn o bryd yn ystod y flwyddyn academaidd nesaf ac mae'n bosibl y gallant newid. Maent wedi'u cynnwys yma i roi syniad o strwythur y cwrs.
Core
Fe'i cyflwynir yn rhannol neu'n gyflawn drwy gyfrwng yn Saesneg
Core
Opsiynau
Fe'i cyflwynir yn rhannol neu'n gyflawn drwy gyfrwng yn Saesneg
Core
Opsiynau
Cyflogadwyedd
Career prospects: From Campus to Career
Many of our graduates have explored a career in:
Marketing Executive;
Market Researcher;
Advertising Copywriter;
Advertising Account Planner;
Media Planner;
Media Buyer;
Public Relations Officer.
What skills will I obtain from this degree? 
Studying our degree in Marketing will equip you with the following skills:
Improved numeracy skills and the ability to research, interpret and use statistics;
Deep understanding of the causes and effects of economic and other external changes;
The ability to communicate clearly in a written and spoken form;
Effective problem solving;
Analytical and creative thinking skills;
Decision-making;
The ability to work independently and as part of a team;
Time-Management and organisational skills;
Self-motivation and self-reliance.
What work experience opportunities exist at Aberystwyth University? 
Discover more about the various employment opportunities that our Aberystwyth University Careers team offer.
Enhance your employability prospects with GO Wales and YES (Year in Employment Scheme) managed by our Careers department. 
Addysg a Dysgu
What will you learn?
The breakdown below will provide you with an illustration of what you may study during the three-year degree scheme.
In the first year you may discover:
Fundamental principles of marketing;
Tourism principles; 
Marketing in a business context;
Management;
The business environment and management; 
Finance;
Tourism.
In the second year you may explore:
The production of campaigns;
Strategic marketing;
Consumer behaviour;
Adventure tourism and outdoor recreation; 
Management research methods;
Branding;
Destination and attraction management; 
Business to Business marketing;
Customer relationship management;
International tourism;
Human resource management.
In the third year you may study: 
Marketing Communications;
The nature and importance of international marketing and global brand awareness;
Sustainable tourism; 
Qualitative and Quantitative analysis of marketing situations;
Tourism marketing; 
Formulation of effective marketing plans;
And undertake a compulsory independent research project.
How will I be taught? 
Our students are taught through lectures, small-group seminars, and tutorials.
We assess our students through examinations, assessed essays, projects, reports, reflective diaries, portfolios, and presentations. The coursework will develop your capacity to research, analyse and present an argument clearly and coherently, while seminars will help you hone your presentations skills.
You will be assigned a personal tutor throughout your time at Aberystwyth University. This person will assist you with all matters relating to academic and non-academic. 
Gofynion Mynediad Nodweddiadol
Tariff UCAS 96 - 120
Lefel A BBB-CCC
Gofynion TGAU (o leiaf gradd C/4):
English or Welsh and Mathematics
Diploma Cenedlaethol BTEC:
DDM-MMM
Bagloriaeth Ryngwladol:
30-26
Bagloriaeth Ewropeaidd:
75%-65% overall
Mae'r Brifysgol yn croesawu ceisiadau gan fyfyrwyr sy'n astudio am Ddiploma Mynediad i Addysg Uwch. Mae ein polisi derbyn cynhwysol yn rhoi gwerth ar ehangder yn ogystal â dyfnder astudio. Dewisir ymgeiswyr ar sail eu teilyngdod eu hunain, a gall cynigion amrywio. Os ydych yn astudio am gymhwyster nad yw wedi'i restru ar y dudalen hon, cysylltwch â'r Swyddfa Derbyn Israddedigion i gael cyngor pellach. Mae manylion am gymwysterau gwahanol wledydd a dderbynnir yn y Brifysgol i'w gweld ar ein tudalennau gwlad-benodol i gael manylion am y cymwysterau rhyngwladol yr ydym yn eu derbyn. I gael rhagor o wybodaeth, cysylltwch ag ug-admissions@aber.ac.uk
Yn ôl i'r brig